New LoSS Video and New Sabor Shirt
Posted by Ripley Stonebrook on 24 May 2023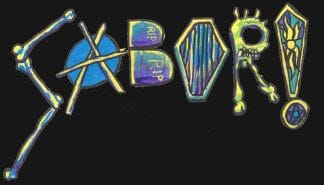 What a busy Week!
Ghost Train
The next book for Concordia "Ghost Train", the first group adventure for the Concordia Roleplaying game, is coming along nicely.
It's all written up and ready for playtesting, and that's where you, the fans, come in!
I need 3 players to playtest the adventure.
The next round of playtesting is scheduled for 2:30 atlantic time on June 24 (saturday). The game listing is up on Roll20.net and you can find it there.
OR....you can email me at spookyroomproductions@gmail.com
Or if you have a small game group already playing on Roll20 and you want me to run the game with you, then I can do that as well. Just email me and we can work out a time and date on your schedule.
You can download all the current concordia material over at drive thru by following this link Concordia at Drive Thru RPG. It includes the background material and a solo adventure you can play to get caught up on the setting and the rules of the game.
LoSS Video

Over on my Youtube channel I've posted a little Retrospective on the LoSS RPG.
It's a game I created years ago and had alot of fun. I don't have a lot of info on the site here anymore for it so thought I would make a little video going over the game and all the game books in one place.
You can find it on my channel "Ripley Stonebrook" or you can follow this Link
Check it out, and please Like, subscibe, and hit that bell on youtube!
New Sabor Shirt

And even more news! The Sabor shirt is now available at my Zazzle shop!

Look at that! Fabulous!
Now you can share your Spooky Sabor style with the world.
You can get one now at my store Here.
That's all for now, I've got to get back to the endless circle of work that is life in the Spooky Room!
~Ripley

Author:
Ripley Stonebrook
About: Heading the Spooky Room Productions output Ripley Stonebrook has been cranking out the spooky for years. Best to try to find me at instagram @ripleystonebrook
Connect via:
Post comment