See the Spooky Room
Posted by Ripley Stonebrook on 8 August 2018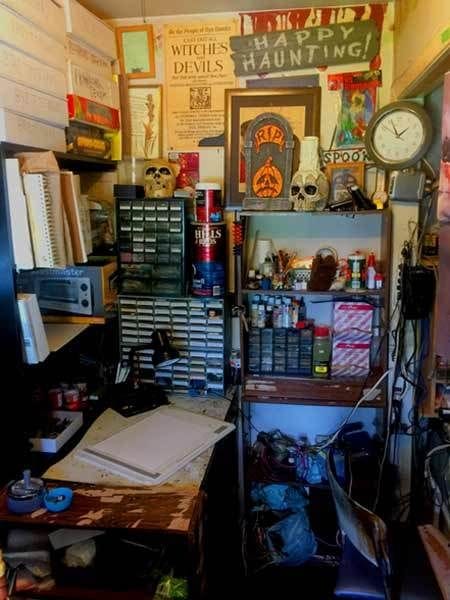 Yeah that's it, after all these years I realized you guys may not know the Spooky Room is a real place, that little spot there is my real studio. and yes it's a little cramped at times.
Why's it called the Spooky Room? Before it became the studio it was a tiny little room in the house with a deeply creepy vibe. After spending just a few minute in there your skin would be crawling. But after moving all the stuff in the room became quite comfy, but ever since then it's been the Spooky Room.
I don't know how many of you have ever wondered what the Spooky Room really looks like but you're going to find out now.
Here's one side. That pile of white boxes at the top are mostly my paper miniatures, Brettonians and Undead, thousands and thousands of paper minis.
Along with them are my boxes of Pharoahs Descent terrain, and excellent world works terrain set of Egyptian tombs and pyramids.
Under those are some of the few boardgames that made it through all the moves, Mighty Empires and Shrieks and Creaks have made it through many cullings of the boardgames.
All the sketchbooks fill the shelf along with boxes of MInis. To the right you can see some of my precious drawers, when you've got a tiny space you absolutely need these to keep things organized.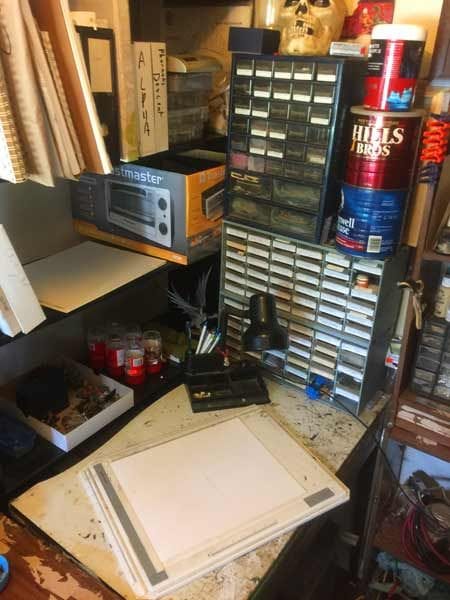 And lower down you can see the drawing table and lamp.
On the shelves in back you can see minis waiting to get their paint jobs finished and the little coffee jars storing the latest Warplastic Greens. Tucked in the corner there you can see my Great Red Dragon which has been "in Progress" for 20 years, someday, someday.
At the top of shelves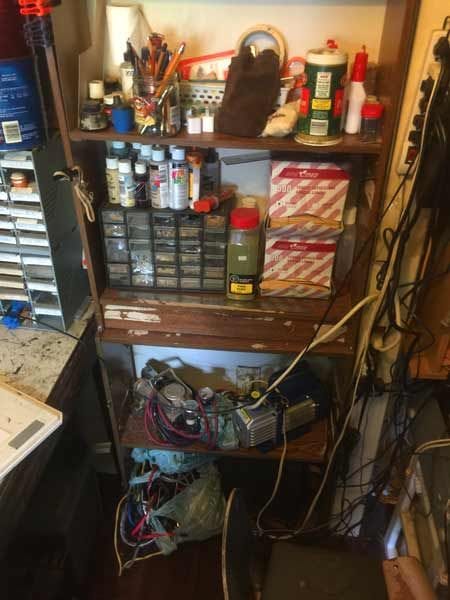 Here's the Centre Shelf, at the top is "stuff that don't fit anywhere else" and dice.
Below that are more drawers, craft paint flocks and a huge amount of Tongue Depressors.
Closer to the floor you can see the Airbrush compressor and the resin vacuum pump. The airbrushes and all the accessories are stored in the drawers.
Under that are bags of cables, hard drives and other stuff.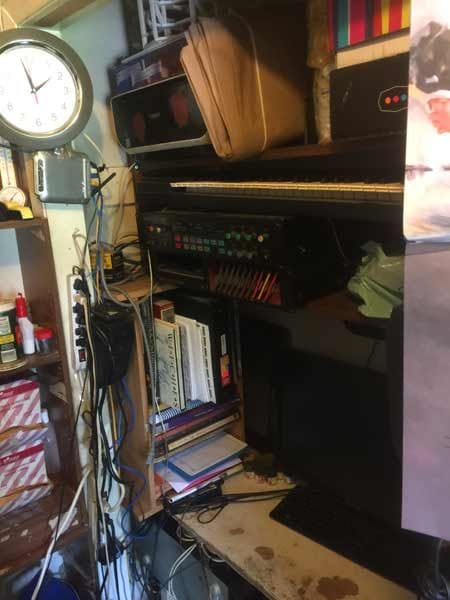 And finally the Computer side.
Up top are all my Demonboard terrain pieces, the scanner, and the Paper Clock. The paper clock is still in progress too. I will defeat it someday, this is actually my second one.
Below that is the Keyboard and the S612 sampler, sadly neither are used too much these days.
Below that are more shelves with all my current projects and the computer below.
And that's it, Everthing that happens at Spooky Room happens right there. All that magic happens in this one tiny Spooky Room.
Keep your eyes out for more minis coming soon in the next week or so.
~Ripley

Author:
Ripley Stonebrook
About: Heading the Spooky Room Productions output Ripley Stonebrook has been cranking out the spooky for years. Best to try to find me at instagram @ripleystonebrook
Connect via:
Post comment