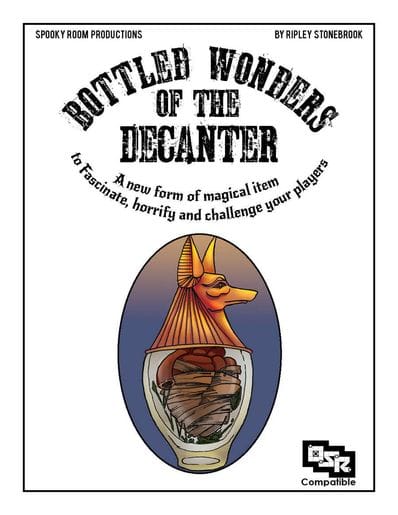 Behold! I present to you a wholly new class of magic item to baffle and amaze your players, The Bottled Wonder.
A myriad of strange things pickled and preserved in bottles, ready to be experimented with by your players.
These pickled treasures range from the merely amusing to the horrifically cursed.
Tired of handing out another +1 sword, or healing potion, when the heroes have defeated their enemies?
Try presenting them with a "Visible Chicken" and watch them try to figure out what it does, or if it does anything at all.
All of the items in this book (110 in all) are presented to the heroes as something preserved in a bottle; noses, hands, fruits or whole creatures.
Some of them replicate the effects of spells, potions, scrolls or other magic items players are already familiar with.
Others are unique in their powers and effects.
But where did these bottled things come from?
Bottled wonders were created hundreds of years ago in the dim history of the world.
Created by the great Decanter class that preceded the alchemists and wizards seen in the world the characters now adventure in.
The Decanters predate magic as it is known now, they tinkered and experimented, taking advantage of the magical powers of the strange creatures sometimes found in the wilds of the world, attempting to harness their powers by preserving the parts of their bodies associated with magical abilities.
Mostly their efforts were fruitless, but they were occasionally able to accomplish marvelous things.
However the nature of the bottled horrors worked against them.
Preservation methods were far from perfect, and the magical forces they attempted to harness were not yet understood.
This means that a Decanter often pulled forth their bottles to perform some feat and were disappointed when the contents merely spilled forth upon the floor in a stinking mess.
Or worse the effect turned on the caster as some terrible random effect occurred.
This led to the abandonment of bottled wonders as the studies of alchemy and wizardry progressed.
Thus the wonders were lost to history, with the practice of decanting being long forgotten by all except historians and story tellers.
29 Pages